CHAMBER MUSIC IN AN ENCHANTING MOUNTAIN SETTING
Eight exceptional concerts in an enchanting setting from January 1 to March 4, 2023
The Festival
Programme
ABOUT THE FESTIVAL
The Musique & Neige Festival was founded in 1969. Sir Peter Ustinov, who was living in Les Diablerets at the time, came up with the idea of holding concerts in the magnificent Temple de Vers-l'Église. The success story has continued for more than half a century!
Successive artistic directors have been united in their passion to enable music lovers to see top artists at extremely affordable prices. The Festival hopes to bring audiences strong emotions, quality, fellowship and a warm welcome. 
The Festival's longevity is down to its volunteers, loyal audiences and a handful of sponsors. It receives financial support from the Municipality of Ormont-Dessus. The substantial contribution made by donors from the Friends of the Festival Association, and by patrons who are generous and discreet in equal measure, means that the budget is balanced each year.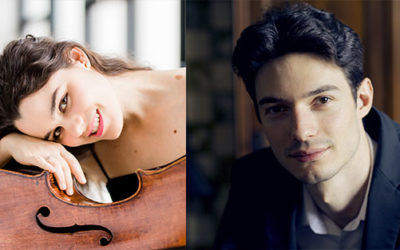 On Saturday, January 21, 2023, it's an unprecedented duo that we will welcome at the Temple of Vers-l'Eglise and that you won't be able to find anywhere else 😜! The famous cellist from Valais, Estelle Revaz, has accepted, at the request of the 🎼Festival Musique & Neige ❄️, to play...
read more
Follow us on our social networks
Our artistic director, Gilles Champoud, has concocted a sparkling program with remarkable performers from the classical music scene. In addition to some of them who have already enchanted you in the Temple of Vers-l'Église, there will be beautiful discoveries: Mozart, Beethoven, Schubert or Brahms are of course part of the program, but also Korngold, Kurtag or Lutoslawski.
We wish you a 54th season full of discoveries!
WE CANNOT THANK THEM ENOUGH
FOR THEIR SUPPORT!
FRIENDS OF THE MUSIQUE & NEIGE FESTIVAL
The Association of Les Diablerets Musique & Neige Festival Friends was founded in 1988. Its mission is to encourage and support the organisation of the Les Diablerets – Vers L'Église Musique & Neige Festival, notably by providing financial support. Friends support the festival through an annual subscription of CHF 70.- per person, or CHF 120.- per couple. They are involved in decision-making at the General Assembly and enjoy special discounts on concert tickets.
Leave us a little message!
If you have any questions, please do not hesitate to contact us by filling out the form below. We will answer you as soon as possible.