CHAMBER MUSIC IN AN ENCHANTING MOUNTAIN SETTING
Eight exceptional concerts in an enchanting setting from January 1 to March 4, 2023
The Festival
Pre-program 2023
ABOUT THE FESTIVAL
The Musique & Neige Festival was founded in 1969. Sir Peter Ustinov, who was living in Les Diablerets at the time, came up with the idea of holding concerts in the magnificent Temple de Vers-l'Église. The success story has continued for more than half a century!
Successive artistic directors have been united in their passion to enable music lovers to see top artists at extremely affordable prices. The Festival hopes to bring audiences strong emotions, quality, fellowship and a warm welcome. 
The Festival's longevity is down to its volunteers, loyal audiences and a handful of sponsors. It receives financial support from the Municipality of Ormont-Dessus. The substantial contribution made by donors from the Friends of the Festival Association, and by patrons who are generous and discreet in equal measure, means that the budget is balanced each year.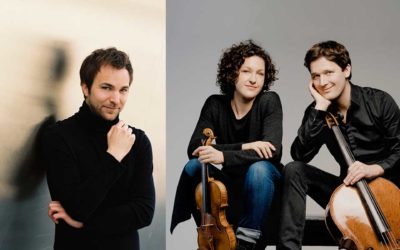 The 3 German musicians Sarah Christian, Maximilian Hornung (cello) and Herbert Schuch perform on the biggest stages of the world! This Saturday, February 19th, we had the privilege to welcome them in our Alps of Vaud at the Festival...
read more
Follow us on our social networks
Our 53rd edition ended with the concert of the Apollon Musagète Quartet. Ucharismatic quartet and among the most talented of its generation. They enchanted us with their program, Schubert and Dvořák, two composers he masters perfectly. See you for the next edition in 2023!
WE CANNOT THANK THEM ENOUGH
FOR THEIR SUPPORT!
FRIENDS OF THE MUSIQUE & NEIGE FESTIVAL
The Association of Les Diablerets Musique & Neige Festival Friends was founded in 1988. Its mission is to encourage and support the organisation of the Les Diablerets – Vers L'Église Musique & Neige Festival, notably by providing financial support. Friends support the festival through an annual subscription of CHF 70.- per person, or CHF 120.- per couple. They are involved in decision-making at the General Assembly and enjoy special discounts on concert tickets.
Leave us a little message!
If you have any questions, please do not hesitate to contact us by filling out the form below. We will answer you as soon as possible.